---

●Company Brief Introduction

We are a large-scaled company that is across the district, specialized in manufacturing packing machines, strapping machines, sealing machine, wrapping machine, carton sealer, pallets wrapper, carton sealing machine, & shrinking machine. Our technology is high. our equipment is complete. What's more, we set R&D department to develop new products and support quality improvement. Taizhou Pakkor Packing Machine Co., Ltd., China successfully passed ISO9000:2000 in Feb 2004. And our K series strapping machines got the CE certification of European Electricity Association.

●Main Product

Semi Auto Strapping Machine series, Auto Strapping Machine, Stretch Film Pallets Wrapping machine series, Carton Sealing Machine, PRA&PRA series, Heat Shrinking Machine series, PET Strapping Machines, Pneumatic Strapping Machine, Pneumatic Strapping Tools, Strapping Tools, Manual Strapping Tools and other related packing tools. (Our leading product K Semi-Auto strapping machine series can produce over 32,000 sets)

●Sales Market

Domestic Market: Sales net covers almost all cities. And K Semi-Auto Strapping Machine series has occupied over 10% domestic market, the one of the largest manufacturer, seller & exporter in China!
Oversea Market: Our Products sell well in Korea, Thailand, Singapore, Indonesia, Vietnam, India, U. S. America, Brazil, Malaysia, Oman, Indonesia, Philippines, Taiwan, Iran, Saudi Arabia, Turkey, Yemen, U. K. Britain, France, Austria, Australia, Russia, Egypt, Bengal, Tunisia, Canada, Denmark, Republic of Colombia, Pakistan, Hellenic, Israel, Czech, Peru, Panama, Japan, Portugal, Poland, Netherlands, Spain, Kuwait, some countries of Europe, Africa and Mexico., etc.

●Welcome cooperating, and become our distributor and agent in your country!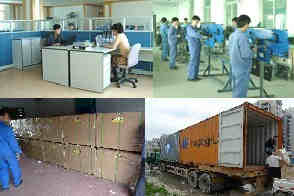 ●Contact information:
Taizhou Pakkor™ Packing Machine Co., Ltd., China
[ Professional Packing Machine Manufacturer in China since 2004! ]
[ Reputed Seller, Supplier, Agent, Exporter & Importer in China! ]
[ Packaging Machinery Manufacturer in China! ISO:9000 ]
Add: No. 168 Guang South Road, Jiaojiang, Taizhou, Zhejiang, China 318000
Tel: 86-576-88050085 / Direct Line:88591388 Fax: 86-576-88880098 / 88559181
www.Pakkor.com www.Packaging.cc www.StrappingMachine.cn
www.PackingMachine.cn www.PackagingMachinery.cn
E-mail: sales@Pakkor.com sales@Packaging.cc packagingMachinery@gmail.com
---
Packaging Machines >>> www.packaging.cc >>> Pakkor Packaging Machinery